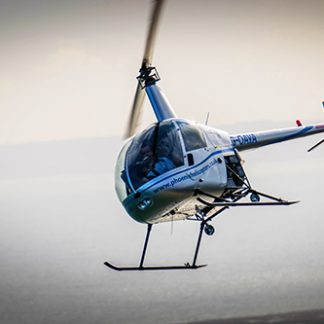 Sale!
15 Minute Helicopter Mini-Lesson Experience in Hampshire
• Get a taste for the life of a helicopter pilot
• Fly for 15 minutes with an experienced instructor
• Take-off from Blackbushe and hover in the skies of Surrey
What to expect from this Helicopter flying experience...
Rules and Restrictions
Minimum Age:

None Specified

Minimum Height:

None Specified

Maximum Height:

6'3" / 190cm

Maximum Weight:

16 Stone / 101kg
We're excited to bring you this brand new deal with Phoenix Helicopters, exclusively for FlyingLessons.co.uk customers!
Normally priced at £140, this 15 minute helicopter flying experience at Blackbushe Airport in Surrey is now on offer for 30% off at just £98… Bargain!
For anyone with an interest in flying, the helicopter represents the ultimate in exciting and challenging aviation. You'll be in safe hands with this voucher though – the Phoenix Helicopters team at Blackbushe have many years experience training would-be pilots, and are eager to share the love of these fantastic flying machines.
On arrival at the venue, which is nestled on the border of Surrey and Hampshire, you'll be met by a member of the team who will introduce you to the workings of the Robinson R22 helicopter during a pre-flight briefing. Then, when you're briefed and ready, its out onto the airfield to climb aboard!
You'll be joined on your flight by a CAA certified flying instructor, who will take care of the tricky business of take-off and landing. Once airborne though, you'll have the chance to get your hands on the controls and fly the chopper for yourself!
With stunning aerial views and the thrill of learning to fly, this experience makes an ideal gift for anyone with an adventurous side!
Where can I do this Helicopter flying experience?
This voucher is for a Helicopter flying activity provided by Phoenix Helicopters, taking place at the following venue:
(click title to see more at this location)
See this flying school on a map >>
Once straddling the A30, Blackbushe Airport has downsized somewhat since its heyday - but has remained a vital centre for general aviation as well as an important conservation site for wildlife. Flying schools at Blackbushe offer lessons in Planes, Helicopters and Microlights - with Aerobatics experiences here being particularly popular among thrill-seekers. Easily accessible from London, this is a fantastic place to take to the skies and train for that coveted Pilots License.
Anything else I need to know?
This voucher is sold directly through FlyingLessons.co.uk which acts as an agent for the activity provider Phoenix Helicopters.
Please be sure to check the rules and restrictions for the Helicopter Mini-Lesson Experience before purchase.

Your purchased voucher will include full instructions on how to book your lesson or experience with Phoenix Helicopters - on doing so you will be bound by their terms and conditions. You should ensure that you are familiar with these terms before booking.

See below for further terms and conditions.
Where can I do this flying experience?