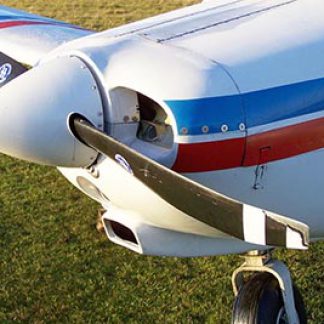 Adventure001 Aeroplane Flying Lessons and Experience Gifts
Adventure001 Aeroplane Flying Lessons and Experience Gifts
Adventure001 Aeroplane Flying Lessons and Experience Gifts
Land-Away Double Flying Lesson Plane Pilot Experience at 7 UK Venues
• Choose from 7 CAA Approved UK flying schools
• TWO 30 minute flights to enjoy and learn
• Train in the basics of flight and navigation in one fantastic package
NOTE: Prices and venue availability listed on FlyingLessons.co.uk are correct at time of publishing, however providers may change these at any time without prior notice. Providers are not obliged to honour any prices/venues displayed in error here. Always check the provider's voucher details in full before any purchase.
What to expect from this Plane flying experience...
Rules and Restrictions
Minimum Age:

12 Years +

Minimum Height:

None Specified

Maximum Height:

6'6" / 198cm

Maximum Weight:

18 Stone / 114kg
We're thrilled to bring you this awesome double flying lesson, at an amazing price exclusive to FlyingLessons.co.uk!
Sure to be a hit for anyone who dreams of taking to the skies, this aviation adventure gets you not one, but TWO half-hour flights in a light aeroplane. This lesson is what's known as a Land-Away experience – meaning you'll take off from your chosen airfield, fly for 30 minutes, then land at a different location before flying back home. Land-Aways are the perfect way to get a real head start as you can experience two lots of take-off and landing in one go.
On the day of the flight you'll arrive at your chosen flying school to be met by your CAA certified flying instructor who will talk you through the comprehensive pre-flight briefing. Then it's out onto the airfield to climb aboard the 4-seater plane that will be your training aircraft. This double flying lesson is a shared experience – meaning that on one of the two 30 minute flights you will take the role of observer in the backseat while another student sits at the controls. Then you'll swap places on the other leg of your adventure, giving you the chance to take the pilots seat and get hands-on control of the plane – all under the expert eye of your instructor.
This voucher is valid for 6 months and is open dated – meaning if you buy as a gift, the recipient can pick their own time and place to fly. Available at 7 venues all over Great Britain, this voucher has all the flexibility you need to make a fantastic gift for anyone, no matter where you live. And since all flight times count towards the total needed to qualify for a pilot's licence, this is the best way to get started on the path to earning your wings!
Where can I do this Plane flying experience?
This voucher is for a Plane flying activity provided by Adventure001, allowing you to choose from the following venues:
(click title to see more at this location)
See this flying school on a map >> Linley Hill Airfield is situated just a few miles North-East of Beverley in East Yorkshire. Home to the popular Hull Aero Club, offering lessons in both planes and microlights, this is an ideal place at which to begin flying. Enjoy incredible views over the Humber estuary as you take to the skies for an experience you'll never forget!
(click title to see more at this location)
See this flying school on a map >> Once straddling the A30, Blackbushe Airport has downsized somewhat since its heyday - but has remained a vital centre for general aviation as well as an important conservation site for wildlife. Flying schools at Blackbushe offer lessons in Planes, Helicopters and Microlights - with Aerobatics experiences here being particularly popular among thrill-seekers. Easily accessible from London, this is a fantastic place to take to the skies and train for that coveted Pilots License.
(click title to see more at this location)
See this flying school on a map >> On the Fylde coast of Lancashire, a flying experience gift at Blackpool Airport offers truly breathtaking views out to sea - as well as a highly professional level of flight training should you wish to pursue a Pilots Licence. With plane and helicopter lessons as well as aerobatic stunt flying available, you'll find something to suit every aviator here.
(click title to see more at this location)
See this flying school on a map >> Snuggled between Glasgow and Falkirk, this airfield in Lanarkshire is Scotland's main hub for flight training in both planes and helicopters. With several aero clubs on site, Cumbernauld has no shortage of passionate and knowledgeable flying instructors, ready to show you the ropes as you take off into the skies. Enjoy the breath-taking Scottish scenery like never before - from the air!
(click title to see more at this location)
See this flying school on a map >> The airport at Staverton is fantastic hub for aviation, with the nearby M5 providing access to flying facilities within easy reach of the Midlands, Wales and the South West of England. Originally opened as an RAF base in 1931, the airfield is now home to numerous flying clubs offering experiences in a range of aircraft - and with £6 million to be invested over the next 10 years, it looks set to go from strength to strength.
(click title to see more at this location)
See this flying school on a map >> (click title to see more at this location)
See this flying school on a map >> Anything else I need to know?
This voucher is sold directly through FlyingLessons.co.uk which acts as an agent for the activity provider Adventure001.
Please be sure to check the rules and restrictions for the Flying Lesson Plane Pilot Experience before purchase.

Your purchased voucher will include full instructions on how to book your lesson or experience with Adventure001 - on doing so you will be bound by their terms and conditions. You should ensure that you are familiar with these terms before booking.

See below for further terms and conditions.
Where can I do this flying experience?