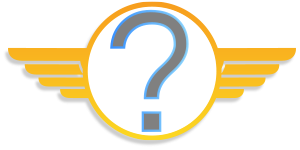 Frequently Asked Questions Information at your fingertips to buy with confidence.
The aviation world can be a bit of a closed book to outsiders at times - it's not intentional, but pilots sometimes forget that some of us don't know our ailerons from our empennage!
Don't dispair though, FlyingLessons.co.uk is here to help! For questions about the ins-and-outs of pilot licence training, we recommend you check out our Ground School section, or if you have general questions about experience vouchers or how to use this site, see below.