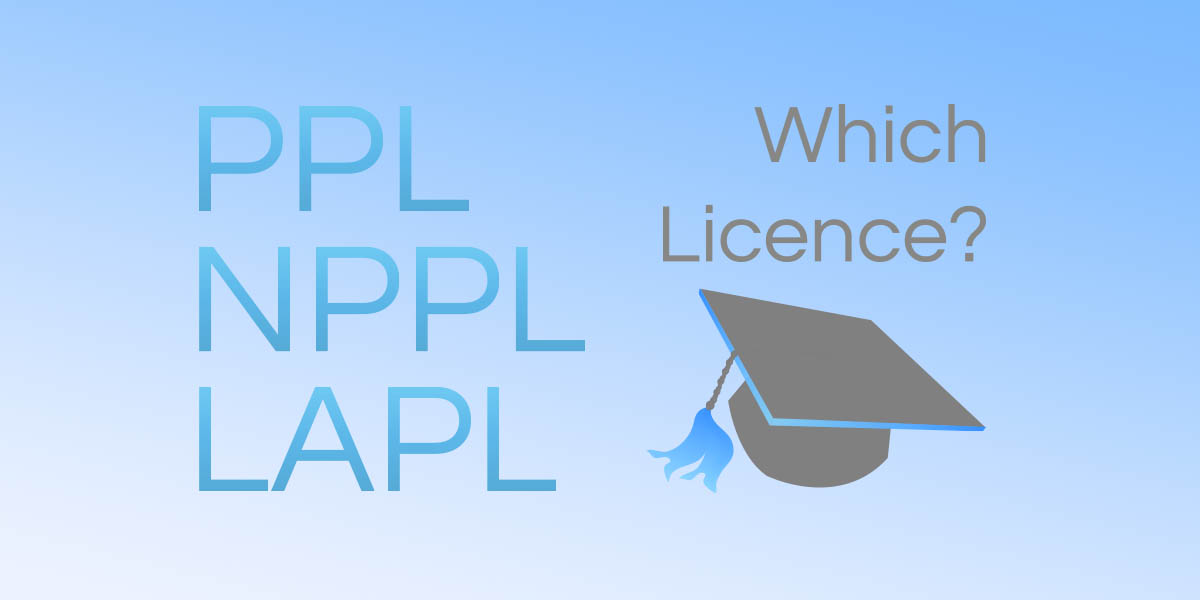 In the UK there are several options for gaining a Licence to fly aircraft.
As a potential new student this may seem like a daunting choice in itself. Given the cost of gaining a pilot's licence of any description, it's very important to make sure you make the right choice for the kind of flying you want to do once you are qualified. Some pilots enjoy flying locally over the land they call home, some make long cross country and international trips, some enjoy farm strip flying, some can think of nothing better than turning the world upside down and spend their time improving their aerobatics skills.
Once you have considered what you want from your flying, the next step is the kind of licence you wish to train for. For Private Pilots, these are split into the following:
PPL
Private Pilot's Licence
NPPL
National Private Pilot's Licence
LAPL
Light Aircraft Pilot's Licence
But what exactly is the difference? Read on to find out…
Course Structures
The course structures and the exercises undertaken during these licences are broadly similar. They all consist of an amount of dual flying (with an instructor), an amount of solo flying (alone in the aircraft), a solo qualifying cross country, 9 written exams, an RT practical exam, a flight test with an examiner and a medical.
However, there are a few differences as demonstrated in the table below:
| | | | |
| --- | --- | --- | --- |
| | PPL (A) | LAPL (A) | NPPL (A) |
| Dual Flying hours | 35 | 24 | 22 |
Flight Training Structure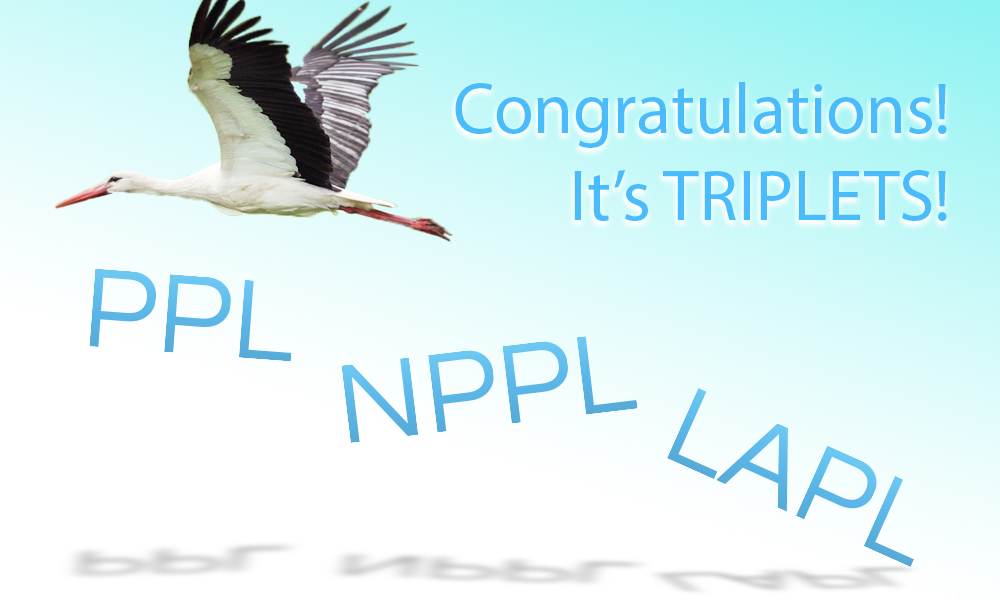 So what is it that really differentiates these licences?
The normal assumption is that the exercises covered during the flight training are different. However, if we delve in to the syllabi of all 3, it quickly becomes apparent that the exercises are almost identical, the only thing that will change is the amount of time devoted to certain portions.
The next assumption may be that the written exams are easier or harder for each licence, they are in fact all drawn from the same standard PPL exams and so are identical for each licence.
It would of course seem logical that the skills test are easier or harder for each licence, again they differ slightly (for example in the PPL or LAPL there is one skills test whereas for the NPPL navigation and general handling are examined separately) but in reality the standards will be very similar. The skills test generally boils down to "Is this candidate safe and aware?".
No, really… What's the difference??
Medical
Most people who choose and NPPL or an LAPL over PPL do so because the medical standards are easier to obtain. Certain conditions will prohibit a class 2 medical and therefore stop the student gaining a PPL but they are able to gain a GP certificate or DVLA professional driving medical standard certificate and so qualify for an NPPL or LAPL.
Privileges
The PPL and LAPL are EASA licences which means that a holder can exercise the privileges of their licence anywhere in Europe and on any European registered aircraft. They can in fact fly worldwide with validations from other authorities.
The LAPL is restricted to aircraft under 2000 kilogrammes and maximum 4 persons to include the Pilot, whereas the PPL has no such restrictions. The PPL also allows the holder to add further ratings such as multi engine piston, single engine turbine, an instrument rating and many other ratings whereas the LAPL only allows TMG (touring motor glider) and night ratings to be added.
The NPPL holds similar limitations to the LAPL in terms of additional aircraft ratings however because it is a national licence, it can only be used on UK registered aircraft and initially could only be used in UK airspace however this has changed with agreements from the Channel Islands and France, it is worth noting that to use the NPPL in France the licence holder must hold a compliant medical (a class 2 medical) and meet the requirements of experience for the PPL including the qualifying cross country. The NPPL is also effectively being phased out and as of 2018 will only be valid on Non-EASA aircraft and so over time will become less useful to the holder depending again on what kind of flying they wish to do. This may have no effect on an NPPL holder who owns a Non- EASA aircraft and has no desire to fly any other aircraft, but for any pilot wishing to do more it will be restrictive.
Cost
The cost of these courses of course will vary depending on the type of aircraft flown, where in the country it is done and the individual school as well as any extra medical examinations that an individual may require. As a general guide to prices:

The PPL should cost in the region of £9000- £10,000.
The LAPL and NPPL are around 25% less training time and so should cost in the region of £6500 – £8000.

It is worth noting that most prices on flight school websites will not include the cost of your exam flight, medical, or any extra training so while those prices may come in lower than the above, they aren't representative of the full amount you need to budget for flight training.
On top of this, these budgets also only work for the course hours. These are the minimum required. On average a student for a PPL actually finishes with closer to 60 hours which will add 33% to the cost of the full PPL. There are many factors which will change the amount of training an individual needs! The LAPL and NPPL also have very similar content to the PPL but have much lower minimum hours without lower standards on the skills test so there is potential that on the LAPL or NPPL for hours closer to the hours required for the PPL.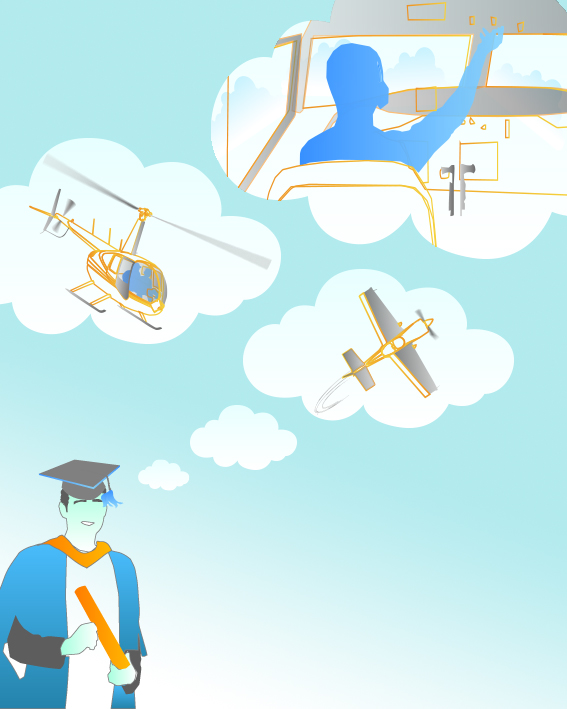 So which Pilot's Licence should I go for?
You should ask yourself one question, "Can I get a CAA class 2 medical?". If the answer is yes then you should consider what you want from your flying.
"Do I want to move on in the future to bigger aircraft?" or "Do I have any aspirations to become a commercial Pilot?". If the answer to these is a resounding no then an LAPL or NPPL could be the answer for you. If you can gain the class 2 and want to continually progress on to different aircraft and have fewer licence restrictions then the PPL is the answer.
So, now you know the facts, it's up to you. Whichever licence you choose, good luck and happy flying!