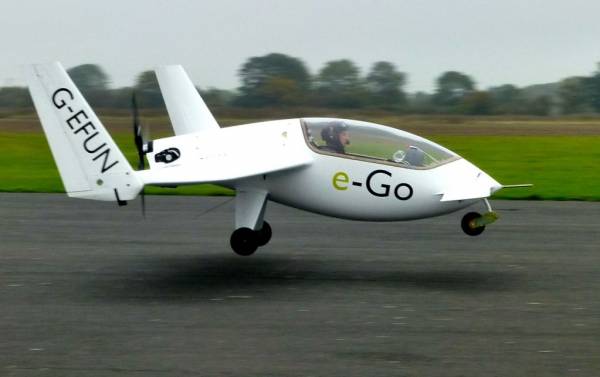 At flyinglessons.co.uk, we're always looking for new ways to say "Jog on, Gravity". So when we recently heard about a new innovation in the recreational aviation world, and one that looks like it could be a bit of a game changer, we thought we'd share the excitement!
Developed by a team headed by chief designer Giotto Castelli at Cranfield University here in the England, the e-Go is a tiny, single seat aircraft which in the UK falls into the 'Microlight' category (Light Sport Aircraft to our friends across the pond). The design features a fully-enclosed glass cockpit, detachable wings for easy storage, rear-side propulsion and a whole host of innovative features. And it's beautiful. Really. We can't overstate this. It looks like nothing we've seen before outside of sci-fi.
A New Era for Affordable Flying?
Created with affordability in mind, the e-Go is set to retail at £50,000 + VAT, which, while not exactly loose change, is definitely a step in the right direction in a hobby dominated by astronomically expensive equipment. And the savings continue. The e-Go runs on the same standard petrol used in cars, which is both cheaper and generally more environmentally friendly than the avgas used in most light aircraft – the e-Go website quotes a cost of just £15 per hour of flight. Since it is compact, with removable wings, and can be bought with an optional trailer, there's also no need to pay expensive hangar fees – you could feasibly house this little beauty in your garage at home.
Because it falls into the microlight family, anyone with an NPPL(m) qualification can fly the e-Go with minimal conversion training, but the creators have included the fantastic feature of an in-built flight simulator – so even while the plane is grounded (or sat in your home garage), you can train yourself to fly it without the expense of fuel and club fees. They also offer transition training as part of the bundle when you buy the aircraft.
See the Aviation Innovation for Yourself
As you can probably tell, we're a bit besotted. It's early days for this sleek machine, but we can really see the little e-Go taking off in a big way, and with talk of a two-seat model (the alter-e-Go) in the pipeline, perhaps it won't be too long before we see flying schools around the UK and beyond offering a new wave of affordable flying lessons!
The Chief Test Pilot on the e-Go project, Keith Dennison, will be giving a free talk at the Royal Aeronautical Society on the 17th of February 2015, all you have to do is click here to register if you want to go along and hear about his experiences test flying the e-Go. Or click here to head over to the e-Go website to find out more about the project.
Happy flying!
In the meantime, check out these fantastic Microlight Flying Lessons