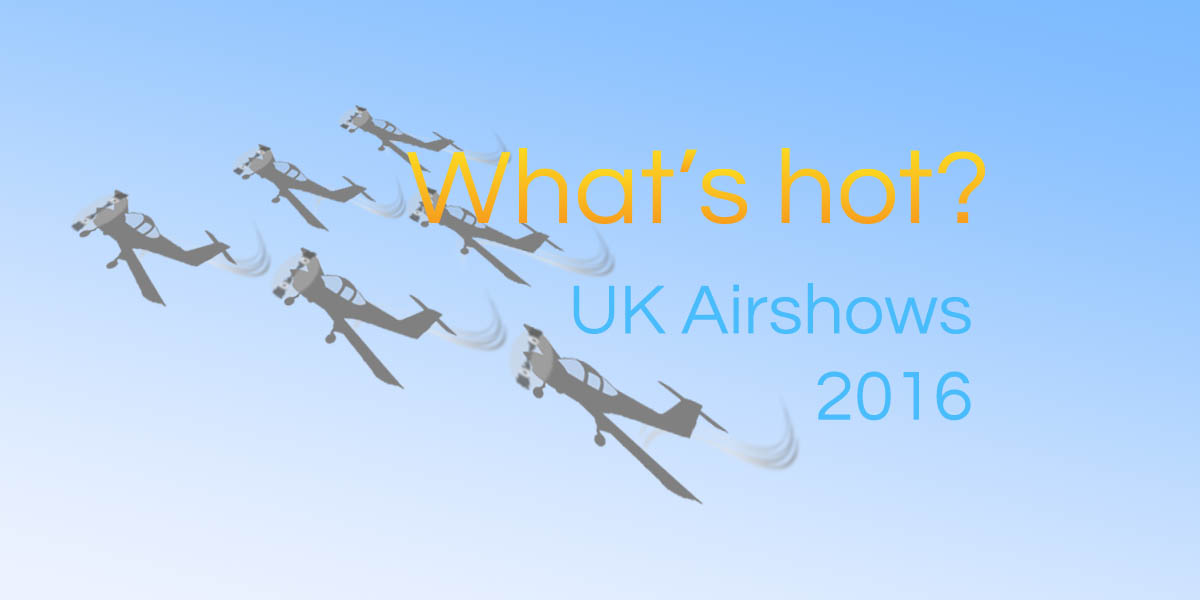 We're incredibly fortunate to have a wide variety of awesome air shows in the UK, with world-renowned teams and aircraft putting on epic aerial displays for the crowds.
However, in the wake of the tragic Shoreham air show accident last August, there has been a degree of uncertainty regarding the future of UK displays. In response to the accident, the Civil Aviation Authority produced a review announcing a number of changes to UK displays, including higher display altitudes and stronger license checks on pilots of ex-military jets, and also increased distances between crowds and displays.
In order to finance these changes, the CAA also increased administration fees for air show organisers by significant amounts. This lead to largely negative reactions from both organisers and attendees; with cost increases running into many thousands of pounds, many organisers warned that their events could become unfeasible, and indeed three large events planned for 2016 were cancelled at the start of this year.
Happily though, the CAA subsequently decided to reduce the impact of the new charges by introducing them in stages over three years, thus allowing many events to gradually phase in the extra costs – and crucially, remain operational.
We're therefore still looking forward to a fantastic year of air displays, incorporating well known favourites such as the Red Arrows, the Battle of Britain Memorial Flight, and the latest high performance military aircraft. But there are also a number of awesome display teams using aircraft types that an average private pilot might fly –such as gliders, gyrocopters and light aircraft…

GliderFX Display Team
Using wingtip mounted pyrotechnics and a seemingly blatant disregard for the laws of physics, it's amazing how an unpowered aircraft can perform a rolling, tumbling, looping and tail sliding programme. Superb energy management allows this display to carry on for a lot longer than seems possible! The GliderFX team are planning to display this season at Weston Park Air Show, and AeroExpo UK.

Turbulent Display Team
The Tiger Club's Turbulent display team, in addition to being one of the UK's oldest display teams, is also known for being one of the most flamboyant and brilliantly eccentric. Dashing about the skies at several miles per hour, their barnstorming display includes low level explosive flour bombing, balloon popping contests, and a jaw-dropping close range, low altitude display. They can be appreciated in true British style this year at the Stow Maries Evening Fly-In, Herne Bay Air Show, and other venues.

Gyro Air Displays
Using the mighty Calidus Autogyro, this team performs seemingly impossible aerobatics in a low speed, low energy, but high fun display. The team is cleared to safely wow spectators at just one hundred feet above and fifty metres from the crowd, allowing an extremely personal and interactive display. This year, the Calidus Autogyro will be displaying at Torbay, Weston Air Festival, Aero Expo 2016, Blackpool, Old Sarum Air Show, plus many more.
We can certainly recommend attending these amazing aviation displays, and others, in the coming season. Happy flying!