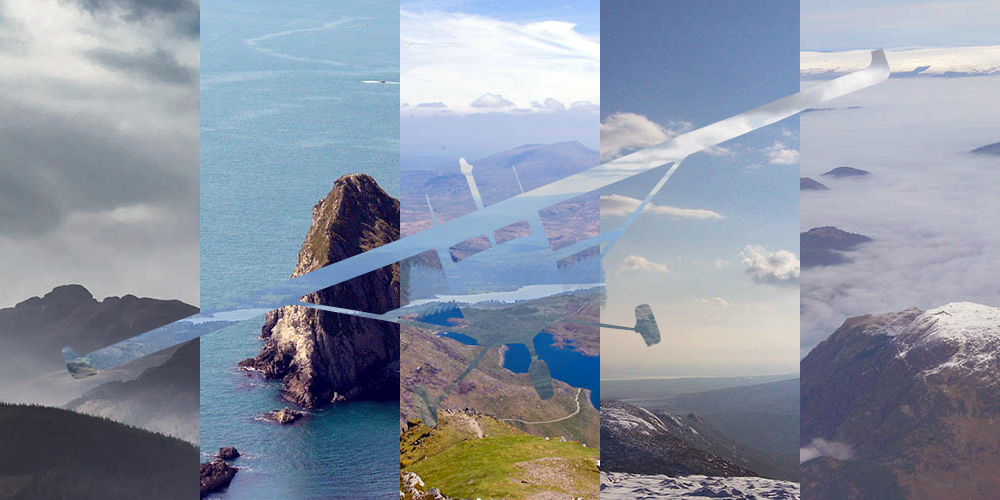 Top 5 British Landscapes Best Seen from the Air
At FlyingLessons.co.uk we're obsessed with finding the most exciting places to fly. With so many great flying schools around the UK, it can be tough to choose just one – so it's worth considering the scenery. An amazing view can elevate a flying lesson from a great day out to a truly life-changing experience!
To help you choose, we've checked out some of the most beautiful places to fly all over the UK. After much deliberation, we've selected our top picks (in no particular order) for Scotland, Wales and Northern Ireland, as well as the North and South of England.
Our list is dominated by mountainous regions – we think they offer the greatest views – let us know in the comments below if there's another area you think people really need to see from the air!
Scotland – Cairngorms National Park
The largest national park in the British Isles, the area including the Cairn Gorm mountain range has to be one of the most breath-taking landscapes in the UK.
Within easy reach of airfields in and around Perthshire, this ancient, craggy plateau offers awesome views for hikers – but to fully appreciate the variety of scenery on offer, it needs to be seen from the skies.
Home to five of the six tallest, snowiest mountains in Scotland, as well as miles of rolling moorland, icy lakes and dense pine forests, The Cairngorms is like a snapshot of Britain's pre-industrial past – a fantastic place for any nature-loving pilot to see.
Northern Ireland – The Mountains of Mourne
County Down's Mourne Mountains are in the running to become Northern Ireland's very first National Park – and if you fly over them on a clear day you'll easily see why! When weather allows, flights from Portadown take you out over the shoreline of Loch Neagh to skirt the mountain range which is home to Slieve Donard, the highest peak in Ulster.
As you soar over the beautiful, untamed countryside, look out over the Irish sea for the chance to see the Isle of Man and – on especially 'gin-clear' days – the peaks of Snowdonia.
If you're learning to fly in Northern Ireland, there is no more awe-inspiring place to earn your wings!
Southern England – The Jurassic Coast
Stretching for over 90 miles of the Devon and Dorset Coastline, the Jurassic coast is a designated World Heritage Site perhaps best know as a haven for fossil-hunters.
There's no doubt this storm-battered coast is a fantastic place to go wandering on the ground, but it's only once you take to the sky that you can fully appreciate the beauty of this incredible range of towering cliffs and idyllic beaches.
With flying lessons available at a number of nearby airfields, getting into the air here is easy. Soaring high over the rocks, looking out to sea can feel like looking straight over the edge of the world!
Northern England – The Lake District
The soaring heights and deep, placid waters of the Lake District offer spectacular views from both land and air.
In easy flying distance from Carlisle in Cumbria, this huge expanse of ancient, weathered mountains and distinctive u-shaped glacial valleys make for an almost other-worldly scene when seen from above. If you fly over on a summer's day, you can watch as low-lying clouds drift and flow down the valleys like water.
Speaking of water, the many lakes that give this National Park its name make for some thrilling flying – skirting low over the steely expanses of cold, fresh water is truly exhilarating!
Wales – Snowdonia National Park

Designated as a National Park in 1951, Snowdonia is a favourite spot for flying, with microlighting being particularly prevalent in the area. It's not difficult to see why – this huge chunk of North Wales is one of the wildest, most beautifully untouched places in the country.
While it feels remote, Snowdonia is easily accessible by road from both the Midlands and North West England, and the journey is well worth it. As you take off from airfields such as that a Lleweni Parc, you'll climb ever higher over the peaks and valleys, gaining unrivalled views over the stark, windswept landscapes.
This is a part of the world that has inspired artists and writers for hundreds of years, and with flying now so affordable, it's high time the next generation sees its beauty from a new angle!
Over to you…
So there you go – what did you think of our list? What are your personal favourite flying spots? Let us know!
Happy flying!